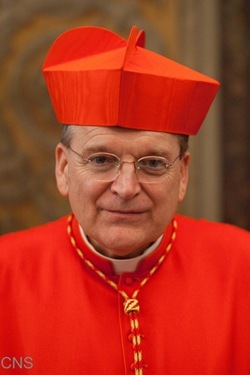 Five years ago (7 July 2007), Pope Benedict XVI issued
Summorum Pontificum,
his
motu proprio
permitting priests to offer the Extraordinary Form of the Mass
without
first having to obtain permission from their bishops.
Cardinal Raymond Leo Burke (who I had the honour of meeting last November in Rome during the FIUV General Assembly) lamented what he termed the "resistance to what the Holy Father has asked." His analysis makes interesting, albeit sad, reading:
"There's no question that there remains in certain places a resistance to what the Holy Father has asked, and that's sad."
"It's sometimes even an expression of disagreement with the Holy Father's discipline and even an expression that this is harmful for the Church."
On the liturgical changes that followed the Second Vatican Council:
"There was a stripping away, a changing of the form of the rite that in my judgement was too much."
"You can't take a living reality, the worship of God as God has desired that we worship him, and tamper with it without doing violence and without in some way damaging the faith life of the people."
On the
Novus Ordo Missae
, Cardinal Burke said (according to Catholic News Service) that he hoped the ordinary form of the Mass would eventually be enriched through the increased use of Latin and the restoration of prayers at the foot of the altar and the Last Gospel (Jn. 1:1-14).
Cum Petro et sub Petro per Mariam ad Jesum. Amen