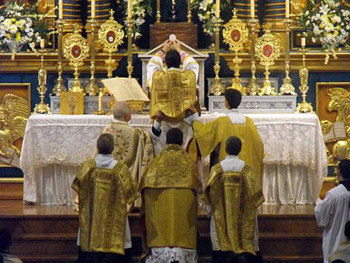 More bad news concerning traditional Catholic groups. In recent years, traditional Catholic groups such as the Little Sisters of the Redeemer, the Trappists of Aachen and the Franciscans of the Immaculate, have been de facto annihilated. On 30 June 2019, Pope Francis suppressed another group of priests in Italy known as Opera Familia Christi, from the Archdiocese of Ferrara-Comacchio. No reasons have been given for this latest suppression.
Opera Familia Christi is remembered with affection in Malta because, on 24 June 2016, it celebrated the first Tridentine Mass since the introduction of the Novus Ordo in 1970, at St. Paul's Chapel in Birkirkara. One sincerely hopes that similar drastic measures will not be imposed on the only traditional Catholic chaplaincy in Malta - the Apostolate of Saint Paul Malta.
This Blog will continue to update its readers with any relevant information concerning the Fraternity of St. Peter, the Institute of Christ the King Sovereign Priest, and other traditional priestly groups.